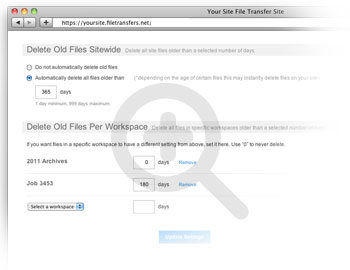 Manage files easily with the
Scheduled Delete featureFileGenius lets you easily and securely store, access, and share files from anywhere, at any time. Create workspaces (groups of files) and easily set permissions and access privileges for users. Your company can always remain agile and secure and take care of business when it needs to.
Here are some of the ways you can manage your files:
Add, activate, deactivate or delete one or many users at any time. You and your clients, customers and associates never pay for user accounts*
Create user groups for easy management.*
Create sub-admins to create and manage users for specific workspaces.
Download, move, copy and delete individual or multiple files and folders at once.
Schedule files to automatically delete after a set amount of time.
Add searchable comments and IDs to files and folders and even automatically email those comments to other users.
Scheduled delete of select files and folders.*
Sort files and folders by name, date, size, file ID and username.
Find any file or folders quickly using the search function.
*FileGenius Business and Corporate.
**Business optional, Corporate included.